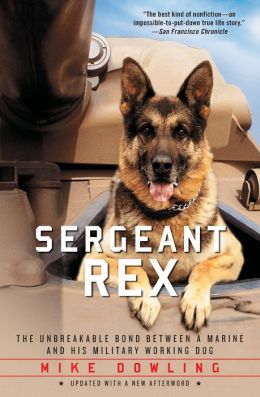 www.barnesandnoble.com
I love dogs. You all know that. So I am totally a sucker for books about dogs, but I was still completely surprised when this book was part of my Christmas gift from Carl. Who knew he could find a dog book I had never heard of?! Well, he definitely did and he picked out an amazing tale. I brought it along on our Rose Bowl trip and I had finished it by the time we landed in Chicago on the way home. I.could.not.put.it.down.
Sergeant Rex
, written by Mike Dowling, tells the story of a Marine dog handler, his dog, and their amazing bond. The pair was sent to Iraq in 2004; the first time the Marine Corps had sent dog teams to the front lines since Vietnam. Dowling details firefights with Rex and raids in which his dog sniffed out weapon caches, IEDs, and bomb-making materials while dispersing short family and initial dog-training stories throughout. He also excellently captures the camaraderie among the Marines deployed together. The book gives the reader a glimpse inside the Iraq war while simultaneously building an attachment to Rex and his likability. (While writing this blog I googled for a review only for an article to pop up stating Rex passed away in December; I teared up.) This book was both captivating and well-written; I definitely recommend picking up or downloading a copy!
The San Francisco Chronicle said it best:
"The best kind of nonfiction -- an impossible-to-put-down true life story."